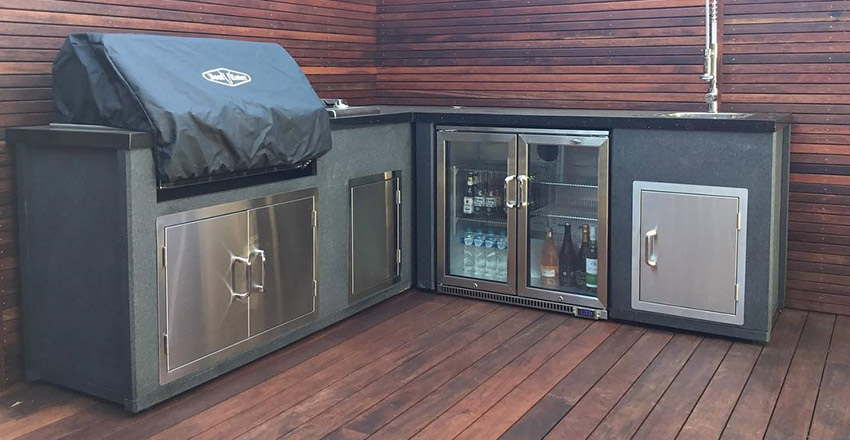 It may not be your first thing that jumps to mind, but now is the perfect time to plan and build your outdoor barbecue/entertainment area. The weather is cooler and you have time to plan the entire project from sketching out ideas to adding final decorations before summer rolls around again.
Location
Choose an area of the backyard where you want to entertain guests, but still have easy access to amenities like a bathroom or indoor refrigeration. You want to create a self-sufficient outdoor room, but don't want it to be too isolated from inside necessities. Take trees and other vegetation into account. A shaded area is attractive because this keeps the spot from getting too hot during warmer months, but full-sun can be delightful as well. We can integrate your favourite tree into the deck it can make an amazing feature having that cut around a beautiful palm tree or similar With a light to shine up at night time can really add the wow factor to your deck!
Decking
A quality deck is a must for your barbecue area. Decking that compliments your home and adds value to it. Working with a reputable decking company that gives you plenty of options for making your dream a reality. Include room for comfortable dining and extra seating in addition to your workspace. A table with a fire pit built into it for year-round enjoyment is also a nice touch. A backyard deck makes the barbecue area feel more like an additional, cozy room. There are so many options now with composite decking as well as all of the traditional Australian hardwood favourites we can offer the largest range of sustainability sourced Australian hardwoods plus A selection of the best Composite Brands from around the world which comes completely maintenance free with guarantees ranging from 10 to 25 years. Come to our extensive showroom in Alexandria to explore the full range of options.
Appliances
Outdoor appliances have come a long way in the past several years. Gas and charcoal grills, sinks with running water, compact refrigerators, and even wine chillers are all built to withstand the elements. Pick and choose based on what you need for your personal comfort and that of guests. Please remember if you live near the ocean you will need to make sure that all your outdoor appliances are 316 marine grade stainless steel to avoid any rusting.
Pergolas
A pergola goes a long way to giving your outdoor barbecue area character. It really turns the space into a room without walls. Vining plants like roses or jasmine can be trained on to the pergola for a beautiful effect, consider a vertical garden to really make the space feel inviting. Artwork or a fan can be attached for extra enjoyment and comfort. Even a bare pergola gives structure to a garden. Making the most of your backyard by adding a barbecue area complete with decking and a pergola adds to your quality of life. We have an extensive range of frames using all kinds of products from recycled timber to hardwood to aluminium Uneven stainless steel! Roof sheeting We offer many products including colour bond Danpalon and Versiclad and Sunglaze all tried and tested in the Australian sun to reflect the heat allowing light and allow you enjoy Your outdoor area come rain or shine!