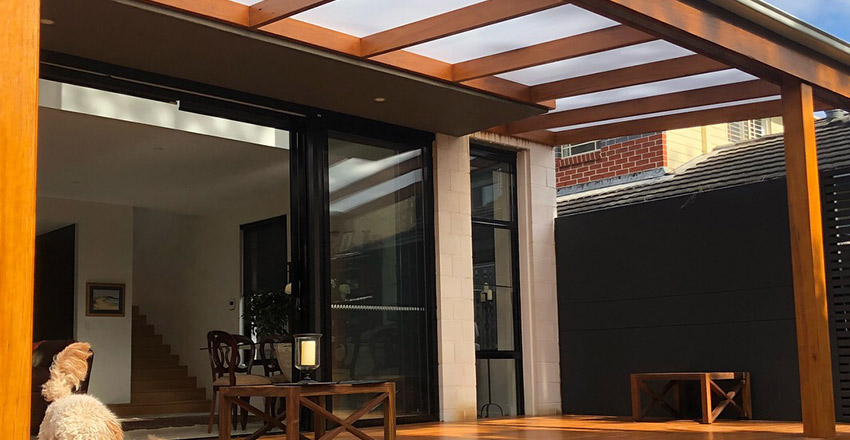 In addition to updating your outdoor space with a new deck, adding a pergola is a fantastic way to really polish your outdoor space. A pergola gives an amazing sense of connected space.
The design of your pergola can match the wood you chose for you decking boards or bring in a contrasting colour of wood. Often a light coloured decking board can look beautiful with a thick strong solid hardwood pergola.
Take inspiration from the many traditional cultures that use pergolas as a form of shade or garden decoration. You can add elements of Japanese or Mediterranean design and give your garden a touch of culture.
Create Space With a Pergola
A pergola can create micro spaces within smaller sections of your outdoor area. By sectioning out an area for an outdoor table or sitting area you can combine several spaces and give each a better purpose. Having a vase open space can lacks a nice cosy feeling, making the space less enjoyable.
Provide Shade
In the summer your pergola will provide some much needed shade. For day time events you can move the table under and create that all important shade! No one wants to have to break up a great brunch due to getting burnt shoulders! If the kids are getting messy with crafts you can set them up outside without the fear of them getting over exposed.
Bring in some Greens
The classic Italian summer set up is only a pergola (and a few years of growing) away!! By planting some beautiful climbers your back garden can be turned into a stunning European inspired retreat. Picking your climber is important as you don't want to plant, wait for it to populate the area, only to discover excessive dropped leaves, a short flowering season or an unpleasant smell!
A pergola is a perfect way to give growing support to your fruit tree. You can train a lemon to espalier (grow against) using the pergola as a support. The art of espalier is to train a tree to grow in a desired shape by pruning and tying branches of a tree to a support. Traditionally the "espalier" referred to the support that was used but now it is more likely to reference the actual technique. This technique also allows more sun to hit the fruit, as long as you design the support line east to west. This will give your space a striking bit of garden wizardry!
Saved from the elements
You can extend your outdoor BBQ season by opting for a pergola with adjustable louver. These mean you can have a solid roof if the weather demands it! A roof that is open for the winter sun to pour in can also be shut at short notice if one of Sydney's famous storms rolls through! This allows you to continue your dinner, safe from the rain under your pergola roof.
Add some architectural interest in your space
Having vertical levels in your garden space is key for an outdoor spaces that surprises and delights! A pergola will provide levels to draw your eye around the space.
Lighting your Pergola
When you light from above using a pergola you can make dramatic lightscapes. You can do so much more with lighting from levels than if you are forced to light your outdoor space from a single light source. I'm looking at you, overly bright motion sensor light!!
A pergola will help you do this and so much more!