Go to our Facebook page and see all our latest projects and customer reviews Read below to see what our customers are saying about us…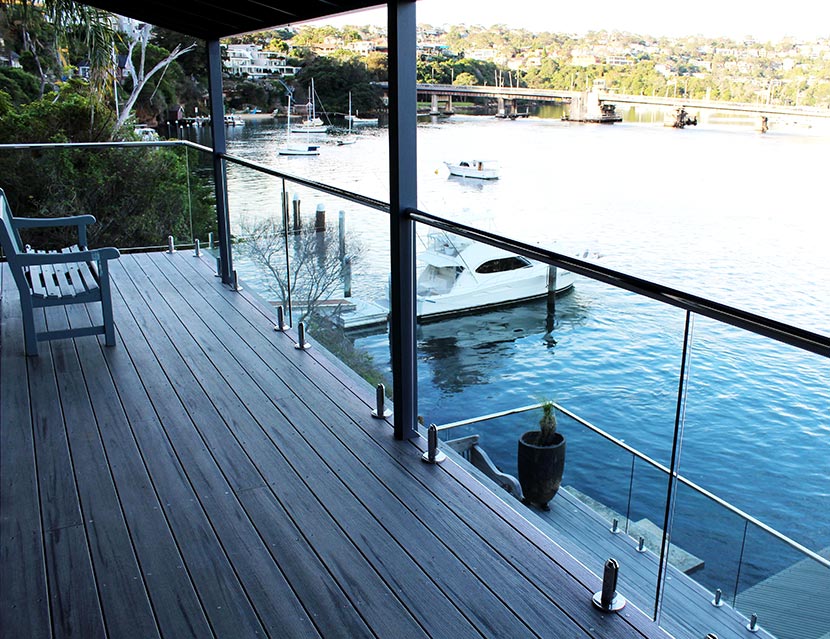 We have a sloping yard, and building a high deck with pergola was not an easy job. The whole process from the original quote, DA processing right through to the finished deck was nothing but exceptional. They are professional, responsive, and their workmanship is outstanding. Thank you to Jamie! Thank you for our project manager Leon, thank you for the carpenter Gary and Karl ! We are extremely happy with the quality and look of the end result and would be happy to recommend them to anyone else wanting decking done.
Joanna & Johnathan
Couldn't be happier with the deck that Decking Sydney built for us. The whole process from the original quote right through to the finished deck was nothing but exceptional. They are professional, responsive and their workmanship is outstanding. Would use them again in a heartbeat.
Darren & Lisa Kelly
Jamie, we appreciate your fantastic work, building our deck. We appreciate your vision of what you have built us from the awful unusable paved area we previously had, to a most inspiring deck. The new deck has now given us a wonderful lifestyle enabling us to entertain outdoors.
The Stratco blinds allow us privacy and the wind and rain sensor is brilliant. Your works are of a very high standard and your people are so pleasant and wonderful that we increased the original job to many more, including installing the fire proof Trex walls, a new garage roof and its guttering.
Darren is highly skilled and wise in his ideas, and we have been privileged to have him look after our project. We really appreciated his positive attitude and his energy. Nothing is ever too difficult for him and he is very efficient and creative. Thank you, Darren.
We would like to wish you every success in your business. You are very professional in your work and you have a fantastic ethos which is reflected in your staff, from the first office contact, Veronica to the casual staff digging the site. You are a very special group of people, always very obliging. I would highly recommend you to anyone. We are glad we chose to go with you.
Thank you very much.
Sue
Sue Hudson
Decking Sydney installed a deck and pergola at our place in 2019. Their work truly exceeded our expectations. The end result looks really beautiful and we are thoroughly enjoying using our new outdoor space.
Darren (our project manager) and his team were brilliant; completely professional, friendly and very responsive to any issues that came up during construction. Darren provided detailed explanations of everything they were doing – before they did it! He also provided us with regular updates by text, phone and email during each day and often many times during a day. Darren's workers were always polite, friendly, conscientious and left everything clean and tidy each day. It was an absolute pleasure having them around our place! Darren even took time out (at no extra cost) to fix our old side-gate to make sure our dog didn't run away during construction!
It was also a pleasure dealing with the back-office team including Veronica and Jamie who were always friendly and quick to answer any queries. Jamie came to us after construction started with a new see-through roofing material for our pergola that was exactly what we had been dreaming of but didn't think existed! Jamie also suggested a type of decking material which comprises 90% recycled plastic and is very easy to clean. We love it because we like to use recycled materials whenever possible and it also looks great.
Thank you to everyone at Decking Sydney for building us a beautiful deck/pergola and for making the process almost completely painless for us; pretty much a miracle for such a job! We highly recommend Decking Sydney for any deck/pergola work.
Mark and Monica
Mark M
My experience using Decking Sydney was excellent. The job far exceeded my expectations, on time and a pleasure to deal with. Their team was very professional and nothing was ever too much trouble.
I would highly recommend this company for all of your decking needs.
Tara Newhouse
These guys were the cleanest and most professional trade we have ever used. So much care taken in their work and a pleasure to have on site. EVERY member of the team. Great communication. Worth every dollar.
Tara Richardson
We just wanted to say a big thank you to Darren, Jaime, Leon, Jamie and Veronica for our 2 fabulous looking decks! Right from the beginning, visiting the showroom and the comprehensive quotes given, Decking Sydney stood out. Veronica was very patient with our repeated visits to the showroom to make up our minds which boards to use. Jamie came to inspect the site and we really appreciated the ideas and suggestions he presented. The job was not the easiest and due to unforeseen issues that arose, some changes had to be made mid-project. Darren managed every aspect of the job with calm and professionalism. The communication and constant updates we had from Darren were excellent. He took every concern we raised seriously and acted quickly to allay any concern we had. Jaime and Leon worked diligently to get the job done and were very meticulous with their work and made sure to keep the job site as tidy as they could at the end of each day. We wouldn't hesitate to recommend the team at Sydney Decking.
Sandi McGuinn
Our pool deck was entirely rebuilt with Millboard by Jamie Morse and his team at Decking Sydney. We had to replace the structure under the deck as well, as posts and joists were partially rotted. Millboard was slightly more expensive than the alternatives but had a more natural look.
We were impressed by the team efficiency , their courtesy and their attention to detail.
The job was completed on time and on budget.
It was a real pleasure to deal with them. We would use decking Sydney again without hesitation.
Janne Paavola
We needed an old rotting treated pine deck replaced and after much research chose Decking Sydney to do the job using Millboard Coppered Oak. Decking Sydney has a good showroom and all appointments from the initial quote through until completion were professional and punctual. Their fixed price quote gave us peace of mind and proved to be valuable when some unforeseen problems were encountered during construction (not of their own making). From the time work commenced demolishing the old deck through until completion all workers were polite, friendly and highly skilled in their work. Regular inspections by Darren (Project Manager) ensured we were 100% happy with all aspects of the job. The standard of finish was more like furniture than that expected of an outside deck – beautiful craftsmanship by master carpenters!
Highly Recommended.
Graham
Dealing with Decking Sydney has been great, fast and efficient. The team communicates well, they deliver a quality service and product. The showroom also helped us choose the materials and colour. If anything, it was us (the customers) who were slow and undecisive for once.
I would recommend Decking Sydney to anyone who wants quality, long lasting decks and stairs
Nicolas MATERAC
We recently had a small deck installed by Sydney Decking. It was not a completely straightforward job as the deck surrounds a fish pond.
At every step we were kept informed of the progress. Charles and Andres were punctual, clean and clearly skilled and both were an absolute pleasure to deal with ….but then you could say that about every person we had contact with from this wonderful company.
We are so pleased with our new deck. Very highly recommended,
Pamela Bedwell
If you want a professional quality job done then these are the best in the business at what they do. Highly recommend!
Jason Macdonald
We were so happy with their professionalism, customer service and the quality of our deck. I recommend them very highly and would definitely use them again if I needed to renovate further.
Anna McPherson
If you want someone very easy to work with and trustworthy then I will surely recommend them. Their experienced designers will work with you closely and ensure that you get what you want. I will endorse their services as these guys will go the extra mile to make your dream deck a reality.
Ted Long
Wish everyone was this great to deal with. Excellent showroom of all the different decking types, contacted within 48 hours of a Saturday visit, site visit within a week, quote emailed a few days after that, accurate estimate of the very reasonable construction lead time, knew what they were doing in assessing and advising about different products and options and design and construction possibilities, and the final product (Millboard Jarrah decking with rubber covered very well built frame) more than met expectations, and dealt with the retention and integration of existing roofing and pergola while replacing the decking very successfully. Everyone involved was a pleasure to deal with, communicated really well, always prompt and effective.
J T
These guys did an amazing job on my deck. My family and I couldn't be happier. On top of the amazing work they demonstrated such professionalism and punctuality. I would highly recommend this company to anyone who is looking for amazing quality with a top service to match. Thank you again. Fred
Frederic Caillon
We run a high end residential landscaping firm in the Eastern Suburbs. Jamie, Darren, Veronica, and the rest of the lads run a really tight ship and their workmanship cannot be faulted. The project they have just finished for us ran perfectly, with no issues or delays and as someone running a busy business, this is gold! Cheers guys, see you on the next one!
TIm Fogarty
These guys are absolute decking wizards. We could not be happier with the result. Professional team, always on time. Went the extra mile to ensure a quality result to the highest of standards, both safety and aesthetically. Best quality boards and best quality labour equals best result we could have dreamt of. I recommend Jamie, Darren and team without hesitation!
Ross Simon
This showroom is certainly worth a visit, every decking hardwood timber on display. Fantastic detail and wonderful service!
Veronica Meyer
Wow. Honestly these guys were actually amazing. So very professional and efficient- they completed the job quickly and so beautifully paying attention to every detail and really taking pride in the finished product. Jamie was so easy to deal with a from the beginning and just made the whole experience positive and hassle free. I truely would only ever work with these guys going forward for anything like this! Thank you!!
Natalie Cottee
We had a few different quotes to do the decking around our swim spa. While Decking Sydney were not the cheapest quote, they gave us the most confidence that the job would be done well so we decided to go with them.
Great decision – they showed up on time, were highly consultative in their approach (listened to what we wanted and gave appropriate suggestions/recommendations where required), were courteous and friendly and always tidied up after themselves. We are extremely happy with the quality and look of the end result and would be happy to recommend them to anyone else wanting decking done.
Jonathan Spittle
We recently had Modwood decking placed over an old garden bed outside our bar. We were very impressed with every aspect of Decking Sydney and the quality of the foundations and the finish of the job. We would definitely recommend Decking Sydney and we are quite sure we will be using their services again.
Graham Harris
Our experience with Decking Sydney exceeded our expectations from the start of the process right through to completion. They were punctual, responsive and highly communicative. The quality of the workmanship and the attention to detail ensured that we are incredibly happy with the finished product. Each person was a delight to work with and genuinely wanted to do the best job and provide the best service. The on-site team were punctual, friendly, polite and hardworking. The project manager maintained high communication throughout the project and ensured we were 100% satisfied. We would definitely recommend Decking Sydney as a professional company with great people who really care about delivering exceptional service and a quality product.
Anna London
Fabio and the team were awesome to have on our property and the result of their work is brilliant. Should have done earlier.
Work to be performed was clearly explained, planned and executed. With a great final result.
Andre Dries
Thank you to Jamie, Darren, Veronica and the team for our new decking. Very professional, looks amazing – such an improvement on what we had before! And our place was left spotless at the end of the job. A pleasure to deal with from start to finish.
Leanne Jarrett
Six months since our deck was completed by the team at Decking Sydney and we couldn't be happier with the result. Darren, Jamie, Veronica and the team were fantastic to deal with. On time, on budget, great advice and fantastic result. We get lots of positive comments, especially regarding the quality of work, and I'm always quick to recommend Decking Sydney.
Joel Montgomery
Jamie and the team from Decking Sydney did an awesome job in installing a new railing on our patio. Very attentive to quality, responsive and all round great to deal with from day 1 to finish. Highly recommend.₩
John Hadchiti
Seriously cannot recommend Decking Sydney and the team with Jamie and Darren highly enough. Having built 3 houses over 10 years, I had some experience dealing with builders, suppliers and products in the building and trade space, and felt I had seen a range of personalities, workmanship and scenarios over that time. We engaged Decking Sydney because they had good ideas, great reviews, patience when we took our time planning and deciding during the sign-up process, and a price point that was truly reasonable and not at all inflated. We had hopeful but not outrageous expectations. And then we were floored and truly blown away by this business! The guys at Decking Sydney are absolute professionals – and all-round nice guys. They show up when they say they will. They're in constant contact, keeping you posted on what days they'll work, when materials will be ready, and how your job is progressing. They work incredibly hard, building in the rain at our site on most days (and I would never ask any human to toil away in wet weather – I couldn't believe the tireless work ethic). They customise anything needed on the job as they nut out the nuances of your site and design. They have reliable, relatable and talented professionals carrying out the work, to the point where a French team of skilled artisans worked tirelessly to produce many elements of our decking, playing the amazing tunes of Edith Piaf in our backyard! A class act all the way. We enjoy our decking space everyday. You will be very happy if you engage this crew.
D Fuller
After spending ages trying to get someone to build our deck (too complicated for part timers – too small for most builders) we stumbled across the Decking Sydney Office in Alexandria. We are very glad that we did. The Decking Sydney team were thoroughly professional. To the point where Darren came in and opened up the office on Easter Friday to help us make a couple of last minute decisions. This project was well managed and we were kept informed. We chose "Charred Millboard" which looks great installed. Very happy customers
Russell Bugden
Incredible service from start to finish. Excellent workmanship. Highly recommended.
R Polivnick
We couldn't be happier with Decking Sydney. Justin is a true professional in every sense. His workmanship is fantastic and he is very generous with his time and advice . As soon as we met him we knew we had made the right decision.
Leonie Watterson, Pagewood
So excited and happy to see the finished deck from the guys at Decking Sydney! Very professional, great finish – nothing was too much trouble for these guys. Fantastic customer service from start to finish! Thanks Jamie and crew:)
Annie Mazzeri, Maroubra
Once again to Jamie and crew, thank you very much for your professionalism, impressive knowledgeable workers and a great looking deck and cladding ceiling. It's want we wanted and more! The following is our description of the word 'Decking' that best describes your business:-
D = Designers
E = Ethics
C = Carpenters
K = Knowledgeable
I = Interested
N = Nice
G = Gifted
It has been a pleasure dealing with your business. Regards
Brendan & Jennifer Walker
If the building industry gave medals for: Design innovation, accuracy in execution, beautiful workmanship, punctuality, courtesy and value for money, then Decking Sydney would scoop the pool. Their solution for a difficult request to float an 18 square metre deck on a sloping roof 3 stories high was amazing. But to build it in a week without a hitch surrounded by glass to maximise the view was nothing short of remarkable. These boys run by their fearless leader who keeps the entire machine working seamlessly and still finds time to answer every text, deserve the reputation they have earned. They are the Best.
Faie Davis, Birchgrove
I knew from first meeting Jamie from Decking Sydney we could expect a good experience. Everyone in his team was professional and helpful with every aspect of building our new outdoor entertaining deck. We were impressed with the quality, craftsmanship and professionalism of the tradesmen and their work. We constantly get lovely comments from whoever visits our home saying how great it looks and what a good quality job. Every interaction, start to finish, was a positive experience. Many thanks!
Kendelle, Hunters Hill
Decking Sydney did an excellent job on our pool deck, we wanted something to really compliment what we'd done with our new pool. They came out gave us a variety of different ideas and samples and helped us plan it just the way we wanted it to look. Very happy we went with them, couldn't have wished for it to have looked any better! Thanks guys.
Rob and Angie Preece, Five Dock
Their crew was courteous, prompt and they completed the project right on time. The quality of work was outstanding. Working with Decking Sydney was the most positive experience I've ever had with a contracting firm. I would highly recommend Decking Sydney to any of my neighbors, friends & family.
Jeff Rafferty, Surry Hills
I just wanted to communicate to you my client experience dealing with your Project Manager Darren Brown.
Over the last few months Darren has provided me an exceptional level of customer service in regard to my recent renovations here at 4/2 Carwar Lane Carss Park, and has been an absolute pleasure to deal with.
Darren is 1,000% courteous and polite, he responds in quick time to text messages and emails, inside and outside normal working hours, and has an awesome sense of humour. Nothing becomes an obstacle for Darren, he just goes about solving issues and has an excellent eye for detail.
From the moment I first communicated with Darren via telephone, followed by a subsequent initial site visit, I could not feel other than impressed by his person to person communication style, and his thorough knowledge of the building code regulations.
Darren also guided me through the council paperwork requirements of the job, and he also worked hand in hand with the assigned Georges River Council senior building surveyor throughout the construction period.
I'm glad to report that I have this morning signed the final "Decking Sydney" sign off document that the job has been completed. I have also received a final occupation certificate from the council.
I felt compelled to provide you with this complementary letter, since I believe Darren is an asset to your company and should be acknowledged. (The young French guys were also fabulous to deal with)
Thank you for the opportunity to provide you with this information. I wish you and Decking Sydney well into the future.
John Wickham, Carrs Park
Thanks for building our deck guys. I just wanted to say that we're all exceptionally happy with the end product. Justin, our builder, was a really nice guy and very thorough – he was always keen to ensure everything was done just right for us. Very happy to recommend your services! Yes, we're now really looking forward to summer!
Craig Delahoy, Beecroft
Great work, was very impressed with the staff and quality of finish. Would recommend you give Decking Sydney the chance to fulfill your outdoor dreams.
Shane Summerhayes, North Narrabeen
What an amazing transformation! We absolutely love our new deck and spend every free minute out there. The craftsmanship is wonderful, the tradesmen were prompt, courteous and capable. I high recommend Decking Sydney for all your decking needs!
Sallie Neville, Hornsby
We needed some restorative care for our wrap around verandah. This was required following a failed DIY polishing attempt. We thought we had ruined it. The Decking Sydney team came in whilst we were away on a break and on our return the Deck looked brand new. We are delighted with the result and very comfortable to recommend the Team to anyone looking for a professional and detailed result. We would definitely use them again.
Adam Lax
We absolutely love our new spotted gum deck!
The project was delivered on time with no hidden costs; Darren and the boys worked tirelessly regardless of weather. We can highly recommend Jamie and his team to create a very special space for you and your family.
Karen Gilbert, Chatswood
We were incredibly pleased with the work that Decking Sydney put into our deck, from the quote, to the finished article, a thoroughly professional experience. We've already had other tradespeople comment on the standard of the work and noting how strong the structure is, we've also had friends comment on some of the detail used, for eg; the corners of the steps, where a triangular finish catches the eye, the privacy screen and LED Lights used. Also, there were a couple of design changes required during the construction period which were both achieved with minimal fuss and great skill, one of the best parts of the job was that the work was completed by the deadline set, in spite of losing a whole day to rain. We would and in fact have already referred Decking Sydney to friends who I'm sure will enjoy the same experience that we had, all in all a brilliant job done.
Jason, Clovelly
It gives us great pleasure to give our full recommendation to Decking Sydney for clients who desire the highest in quality workmanship and professionalism. Their attention to detail is outstanding. The crew led by Jamie arrived on time, conducted themselves with complete professionalism and friendliness from beginning to end and worked with us through our concerns. In terms of building standards, their attention to details, ability to communicate their vision, all led to them gaining our business. My wife and I want to thank Jamie and the crew for making this project so enjoyable. We could not be happier with the end result – Thank you!
Frank, Hornsby
Very efficient, prompt service, we rang they came out the next day measured up and we had the quote emailed to us the next morning. I found them very easy to work with, as an architect I deal with tradesmen all the time, it's refreshing to use someone who gets back to you so quickly and starts the job and finishes it without leaving to start another between! keep up the good work guys!
Andrew Clatten, Manly Vale
I had Decking Sydney build our deck we wanted for our sons wedding. They were fantastic right from the get-go. Honest, upfront reliable and they finished the job right on time. Thanks guys.
John Sanders, Maroubra
Job was done on time and to budget. An approachable and efficient team. Josh worked on a weekend during a very hot spell of weather to get the project back on schedule after a delay because of heavy rain. Highly recommended.
Simon Kneebone, Coogee
After a decision to sell my investment property with limited affordability to renovate I hired Decking Sydney. I was quoted an estimated price & they worked within these measures of affordability. Due to the workmanship and diligence of this team it has helped me increase the property market value. I will use Decking Sydney again for my new purchase. Thanks Guys.
Renae Anderson, Coogee
Thanks a million.
Thanks to Justin he was amazing !!!Worked through all the rain and the decking is 10 out 10.
We couldn't be happier.
Well done team.
Highly re commented them.They delivered everything they promised.
Emanuela Mcmahons point.
Emmanuela Carniato, McMahons Point
The workmanship on our new deck was awesome so if you're looking for a quality finish, you should definitely check out Decking Sydney. We dropped by their showroom which gave us a great idea of the different materials on offer. Throughout the project the team were flexible as we added and deleted a few elements. We valued the fact that the team are all employed rather than sub contracted and our experience reflected that. The team that worked on the deck also had some excellent ideas on the detailed finishings which we welcomed.
John Binfield, Wahroonga
Special thanks to Jamie, Greg and Jordan for what we thought was a fantastic job! Well organised, professional in both communication and execution. Exceeded our expectation by miles and we had high expectations! If you want to have a beautiful deck done by detail oriented professionals don't look further! Thanks Jamie & Greg & Jordan!
Endre Kollo
I have never seen people work so hard in my life. Through 40 degree days and torrential rain, Darren and his team just kept turning up and worked like mad. The result is an amazing deck on a very difficult steep block that has literally transformed the way we live. I cannot recommend them more highly. They delivered on time and on budget – I wish they did everything else too – if they had, renovating would have been a walk in the park.
Jess Gill
Decking Sydney were thoroughly professional from start to finish. A truly experienced and knowledgeable team that can make things happen quickly. I will use Decking Sydney for the next job I need to work on.
Mary, Woolahra
We wanted a deck to extend our outdoor entertaining area, and I'm so glad we chose Decking Sydney. Their workmanship and customer service were first class in building our deck. I would happily recommend them to friends and family, and would use them again in the future.
Mitch, Sydney
We were recommended Decking Sydney by our neighbors who had used them to build a roof terrace last year. We had several quotes, we found them very competitive, but what we liked the most was that their quote was very clear and easy to understand. The guys did an excellent job (even working through the rain sometimes!) We have no hesitation in recommending to anyone thinking of using them on their project.
Mr and Mrs Mattheson, Dulwich Hill
I am loving our deck! Thank you so much. We are so happy we chose you, punctual, polite, hardworking and a beautiful job you did to!
Vivienne Lanson, North Bondi
When it came time to replace our tired old worn deck, we didn't really think there was much else we could do with it, but when Decking Sydney came to look at it they came up with fabulous new design. The boys were a pleasure to have working in our backyard, they cleaned up every day, did a beautiful job and finished 2 days earlier than expected! Overall, I would say to anyone give these guys a call you won't regret it!
Liz Watson, Coogee
If we could rate them 10 stars We would! Decking Sydney were so professional to deal with and provided us with an exceptionally quality deck. We are so happy with our deck, it's well built and attention to detail. It's exactly the look we pictured! Thanks to Jamie and Justin
Sam Downey, Kellyville
Exceptional service and care. Thank you so much Jamie for being so professional, attentive, efficient and true to your word. Awesome team!!!
Ann Touchard, Bondi Junction
Thanks for our new deck guys. Everyone involved were professional and we're very happy with the result. Everything that was promised was completed and I would recommend Decking Sydney to anyone looking at a new deck.
Brian Wu, Roseville
Blown away ! Jamie, Marvin and the team did an absolutely outstanding job. Everything from design and material recommendations to thinking outside the box to overcome those minor unexpected issues. I would recommend Decking Sydney to anyone looking for a high quality, beautiful looking and practical lifestyle upgrade. Thanks guys !
Chris Gacesa, St Ives
Our VIP Sydney Showroom is exclusive to you when you build with us!
ONLY BY APPOINTMENT FOR CUSTOMERS WHO HAVE RECEIVED A QUOTE FROM US