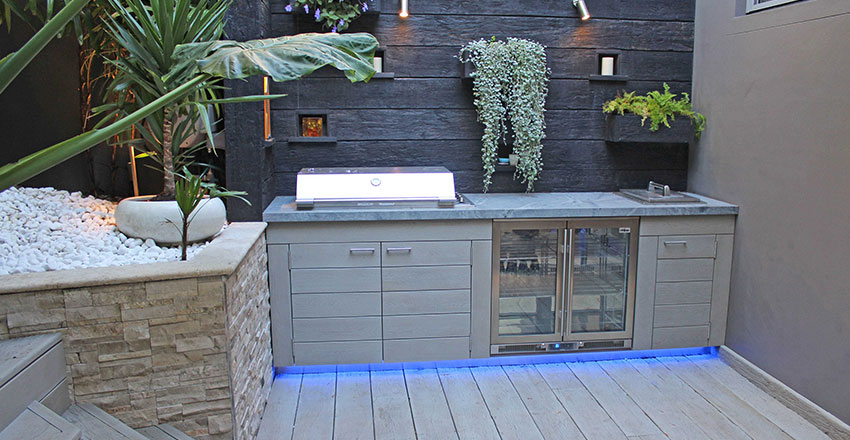 Today I am going to write about Millboard for all of you out there asking all those questions I hear every day.
Not sure if you know, but Decking Sydney is the only place in Sydney (maybe Australia) where you can see the entire Weathered Oak and Enhanced Grain decking board collection on display. All here for you to see, compare, touch and shake your boots off and go bare foot on.
Our Managing Director was a genius when he decided to open a showroom for decking and a bigger genius when he decided to offer and install Millboard. When you come into the showroom you will see it all here and of course much much more!
OK, let's get down to some serious business, pros and cons of Millboard. Just so that you know, I have heard every question possible that has been asked about Millboard and have been able to answer most of them. And when I say most, it's because I didn't do a Chemistry Major at University to know how to explain the process of polyurethane resin and how Millboard has reinforced it with mineral fibers plus a unique Lastane coating! However I can show you what that means when you meet me at the showroom!
Here are the questions I will save you the trouble of thinking! The first and most common question is all about money.
How much does it cost?
Let me give you the heads up on this one, it is the most expensive decking board in the market – internationally! Be prepared when you get a quote from your supplier or installer. Decking Sydney sells the Millboard Collections from our showroom at very competitive prices, yes that's right we sell direct to the end user. You do not need an ABN or be a tradie, so if you are looking at DIY project we can help.
Why does it cost so much?
Due to the fact that no business globally is manufacturing decking boards that come close to matching Millboard's appearance, colour range, realistic appeal or claimed longevity, it is the only board, to my knowledge, that is made from non-organic matter or plastic. Millboard also offers a 25-year warranty, something to consider. We also need to keep in mind that the board is manufactured in the United Kingdom and transported to Australia, a not so economical exercise.
Does it get hot?
Now this one is my all-time favourite. Let's look at things logically. If something is sitting under the direct sun for more than 4 hours, regardless of what it is, it will get hot, including you! Hence, the question should be, does it get hotter than hardwood under the sun for same period of time. The answer is YES! My way of thinking is, if you need to wear thongs (or flip-flops for our international audience) on the sand at the beach on a hot day? Then you will need to wear thongs on your deck on a hot day! This will also relate to the colour of your boards of course; the Charred or Embered board is bound to be hotter than the Limed Oak board, right? Here's a tip, if you have a hose close by to the deck, hose it down when you plan to enjoy it, the boards will cool off quickly.
Will it scratch?
This one is an interesting question too. I believe no matter what you have in your home, you look after it. I am certain that the floor boards inside your home are respected and looked after? And that thought at the back of your mind, "I'll just drag this very heavy, sharped edged metal box across the floor, because I can sand the boards later!" is never considered, right? Then why would you think this way about your deck? And seriously, getting around to sanding your boards, that's a task, not to mention the cost, so why even think that as an option in the first place. Millboard do claim to be scratch resistant, however the scratch needs to also be determined by the lack of consideration. I say, don't gamble, simply look after your boards, the boards cannot be sanded to that "not scratched" look. Here is another tip – Millboard sells pots of paint the match all the colour ranges of the collection. Poof! No more unsightly scratches, for those naughty people!
Will it fade?
Fading is part and parcel when you expose anything to the sun over a long period of time. Think about cars, clothes in shop window fronts, paper, paint etc. Everything fades, however with Millboard the rate would be 5% over a period of 5 years, not that much to really worry about, your eye will adjust with the time, you won't even notice.
Are they slippery?
Yes, they can be, due to a special coating, that is used to protect the boards for transportation and installation. Straight after installation the boards need to be cleaned using warm water and scrubbing brush, once the protective coating is removed the boards will meet the R11 slip rating, which is the commercial and public space requirement. This is one of the reasons Millboard is so popular with commercial builds and councils as it meets and exceeds the requested anti-slip rating.
Are they fire resistant?
The boards have been tested for fire and have been deemed compliant for the use of floor covering applications. However, if you are thinking about placing a live fire pit on your boards I would recommend placing a metal fireplace surround and a screen for embers. The boards have been granted a BAL rating of 19.
Although Millboard has been fire tested it is not appropriate for use in BAL40/FZ.
Will it stain?
No. The board is non-porous hence nothing can absorb into the board, such as water, oil, cordial and even your Merlot! Don't be scared, go ahead and dance with that red glass of wine in your hand. Nothing that warm water and dish washing liquid won't clean away!
Why does it look so real?
Why not I say. The manufacturers of this board have gone to great lengths to make the boards look realistic. Starting from the mould from timbers boards (Have you seen the drift wood? My goodness that is simply amazing!) to the detailed hand wash finish of the final tonal coloured layer. Keep this in mind though, the Smoked Oak you see today may not be the Smoked Oak you see tomorrow. The human element when mixing and brushing the final coat is the reason why no batch is identical!
I must share one customer service experience I had a while back, that is in relation to the boards looking so real.
A lady walks into the showroom…….no this is not the start of a joke, it really happened.
A lady walks into the showroom and starts to admire the Weathered Oak, I suggested she take off her shoes and feel the boards for herself.
"Oh, my goodness!" she exclaims with glee, "This feels so real!"
Then a pause, "Oh, but wait, will I get splinters?"
Bahahahahaha…….. I was laughing so hard (inside my head of course) and said with a serious sincere smile, "No you won't get a splinter, the board is not real!"
There you go, it looks so very real – but not real – that your brain will insist on associating it to real thing. Funny how we humans are, don't you think?